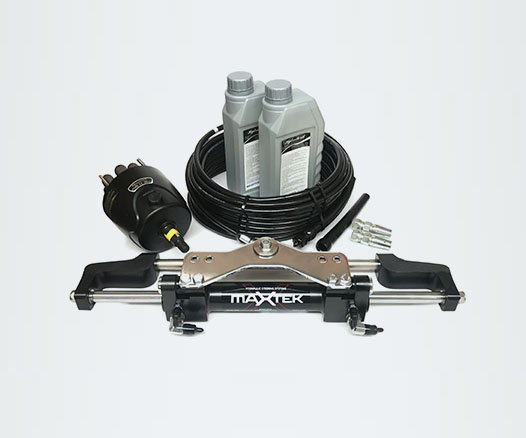 ST150-18
maXtek Marine Hydraulic Outboard Steering - Complete Packaged System Single outboard engine application for engines 150hp or under
Contents of kit: Front Mount 18cc Helm Pump - Heavy Duty Bullhorn Mount Hydraulic Cylinder 1 x 14m Hydraulic Hose With Crimped Fittings Each End (user cuts to required length) Helm Pump Fittings & Hardware Kit 2L Hydraulic Oil Funnel with oil supply tube & Bleed Tube
Features 100% "Marine Proven" components and materials with added robustness in both shaft and mounting dimensions for the toughest use in both commercial and recreational applications * Cylinder rod made from high grade stainless and chrome plated * Quality Hydraulic hose lines - Made in Japan
Cylinder rod made from high grade stainless and chrome plated Quality Hydraulic hose lines - Made in Japan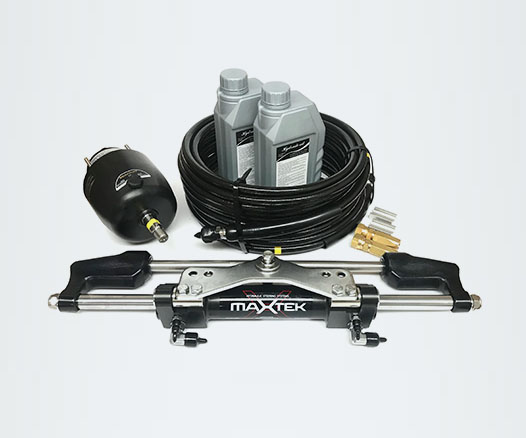 ST350-25
maXtek Marine Hydraulic Outboard Steering - Complete Packaged System Single outboard engine application up to 350HP
Contents of kit: Front Mount 25cc Helm Pump - Heavy Duty (5.3 Turns lock to lock) Bullhorn Mount Hydraulic Cylinder 1 x 15m Hydraulic Hose With Crimped Fittings Each End (user cuts to required length) Helm Pump Fittings & Hardware Kit 2L Hydraulic Oil Funnel with oil supply tube & Bleed Tube
Features 100% "Marine Proven" components and materials with added robustness in both shaft and mounting dimensions for the toughest use in both commercial and recreational applications * Cylinder rod made from high grade stainless and chrome plated * 9.5mm Hydraulic hose lines - Made in Japan Installed by leading NZ boatbuilders including Bluefin, Buccaneer, CSB, Senator, Smuggler, Southern....
Application Guide, System Model will fit. Yamaha 4 stroke 75hp to 350hp Yamaha 2 stroke 50hp, 60hp, and from 100hp to 250hp Suzuki 4 Stroke, from 70hp to 300hp HONDA. 4 stroke from BF 50 to BF250 except older old 130hp and BF 115a carb motors MERCURY 4stroke. From 50hp to 250hp including MERCURY 4 stroke 90hp, 115hp and 150HP Mercury 2 Stroke. From 50 hp to 250hp TOHATSU. M120, M140. EVINRUDE. From 65hp to 300hp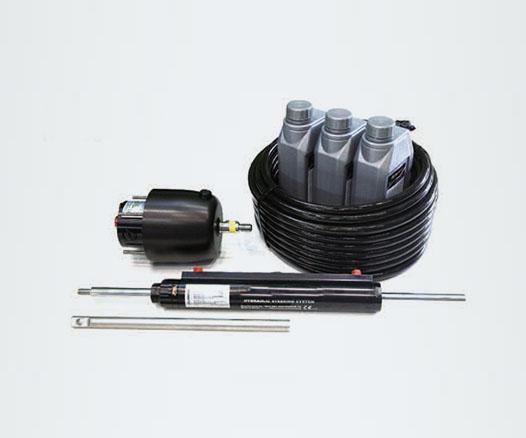 ST250S-30
maXtek Marine Hydraulic Inboard Steering suitable for non- power assisted stern drive. Complete kit for Volvo and Mercruiser systems.
Contents of kit: Front Mount 30cc Helm Pump - Heavy Duty Balanced stern drive Hydraulic Cylinder 1 x 15m Hydraulic Hose With Crimped Fittings Each End (user cuts to required length) Helm Pump Fittings & Hardware Kit 3L Hydraulic Oil Funnel with oil supply tube & Bleed Tube
Features 100% "Marine Proven" components and materials with added robustness in both shaft and mounting dimensions for the toughest use in both commercial and recreational applications * Cylinder rod made from high grade stainless and chrome plated * 9.5mm Hydraulic hose lines - Made in Japan
Front Helm mount 30cc Pump, 3/8 hose x 15m, with reusable couplings, 3 X 1L SAE Oil Wheel turn 4.4 Torque 64kgm Stroke 203mm Shaft 14mm with a bore of 32mm Output force 455kg